photoshoots
featuring photography in collaboration with Pinup Pole Show
photographer credits by set: Mike Ditz, Mitzi & Co, Ryan Enos, Shane Karns, Rick Guzman, SpeedGirls Magazine, John Sluder, U&C Magazine
car photography
featuring photography in collaboration with Pinup Pole Show
photographer credits by set: Mitzi & Co, Rick Guzman, Tonya Kay, Ryan Enos, Juan Hernandez, Tonya Kay and Shane Karns
specs
- 401 engine block bored .040 over
- rods cut .010 under
- 2000 - 6000 rpm
- 325 horse power
- Gran Sport B&M tranny shift kit
- Holley Sniper EFI - Fuel Injection
- Poston NH400 cam
- original high-performance nailhead manifolds rebuilt and cerakote coated
- billet aluminum serpentine belt
- finned aluminum valley pan & air filter covers
- original finned Buick valve covers
- mandrel bent seamless 2.5" exhaust w custom glass pack inserts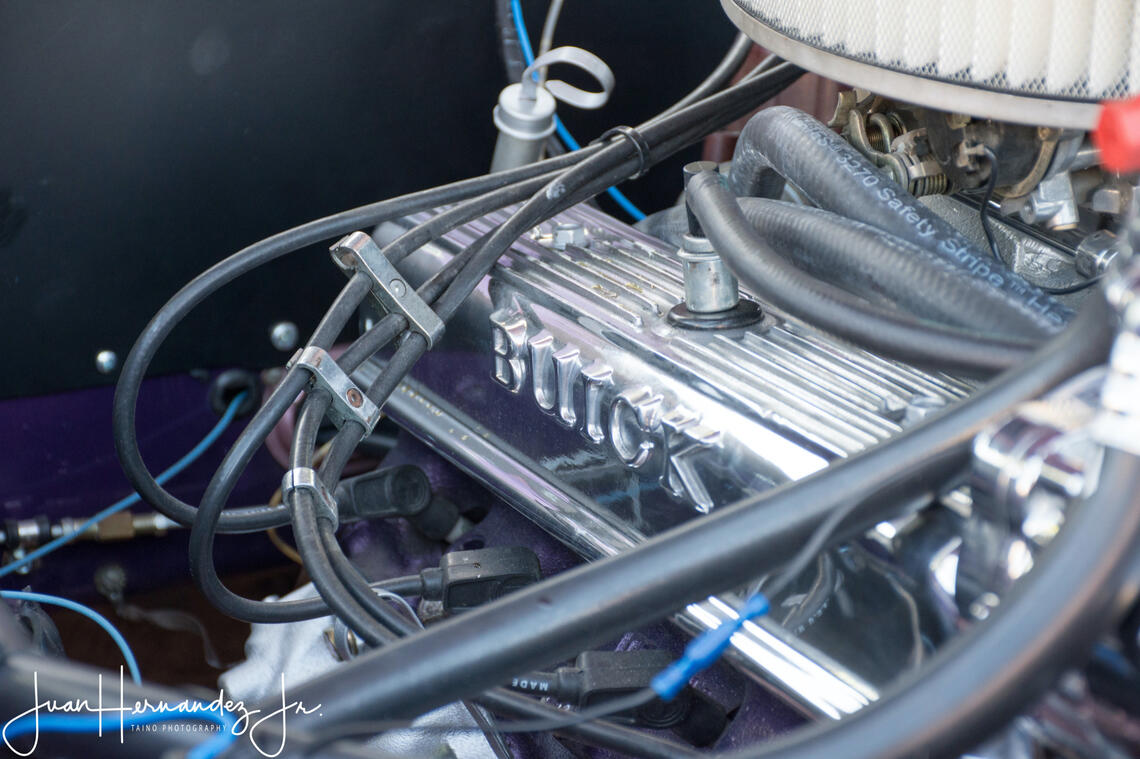 - disc brakes
- original 15" rims with full chrome
- Cobra tires
- new wiring harness
- hands-free Bluetooth integration
- Alpine stereo and tray speakers
- Hifonics amps and subs
- LED interior effects lighting
- white vinyl and satin interior, black carpet
- shaved handles, mirrors and locks
- keyless entry, electric seat and windows
- full chrome
- Royal Twilight Plum Metallic satin paint
herstory
The Grape Space Coaster has a long history - excuse me: herstory - of being a loved car. She has had only four owners before myself and each of them preserved her documents and handed them down to the next owner. You know your car is loved when all the documentation dating back to her first sale winds up in your hands.The last thing I expected when becoming a classic car owner was the community of classic car enthusiasts I would soon find myself within. Reading through years of receipts and records for my Riviera gave me the feeling that this car's life is richer than any one upgrade I could give her during our time together. From the documents, I have assembled this herstory, an obvious statement of her value over the years:
This 1965 Buick Riviera was born on August 13, 1965 to Harold Wyatt on Wilshire Blvd in Beverly Hills. Harold owned a Buick dealership and this was his choice car off his own lot for his personal possession. His favorite of all his Buicks, I like to think.The original license plate was used through 1983, when she was relocated to Ohio by her second owner - the tag stickers are an inch deep.Check out the 1965 Buick Owner's Guide with instructions on how to rock out of snow and what to expect from your 400 engine.
This is the original Buick Buyer Protection Plan with the first owner's name and addy handwritten in - owner copy of the metal VIN plate still attached.Check out the Engineer Approved Accessories for 1965 Buick with items like an under-dash tissue dispenser, salesman desk and clothes rack.This is a rich piece of well-preserved American history.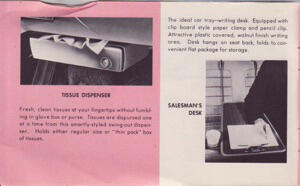 On May 5, 1974, Albert Barnow of Thousand Oaks, CA bought her with 64,667 miles on her for $500 (a brand new car went for $800 back then). Albert kept numerous receipts and catalogs from Orange, CA's Classic Buicks, Inc. He surely upheld her vintage integrity.The Riviera officially moved to Cleveland, OH on Sept 28th, 1985 where she appears to have become a family car, garaged by family friend David Beck and possibly son, Chuck Barnow. David Beck was a member of the Buick Club and I have letters showing a possible relative of his, Keith Beck, winning 1st place in the Post War Buick Class of the Youngstown Annual Charity Car Show with a 1963 Riviera.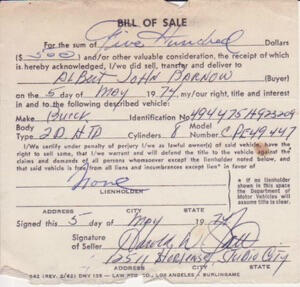 That same family friend, David Beck, officially became her owner on April 22, 1991 for a declared $1000 sale price. There is very little documentation of this 2 year period, but thanks to a valid telephone number left on this owner's for sale listing, I actually got to speak with David Beck and Albert's son, Chuck. I called asking for Albert himself, however he has passed away (rest in peace). David and Chuck however, remember the Riviera and how much Albert loved it. David and Chuck are now in business together doing Rolls Royce / Bently conversions including engine swaps andbrake modifications. Because the sales listing also listed the Riviera as "solid California car ... has new motor, never been fired", I assume these men did the engine swap themselves before resale. Thank goodness for good record keeping.
Chris did a frame-off restoration and engine upgrades for drag racing. When she came to him in 1993, she was white with a blue interior. When Chris was done with her, she looked like this:
The Riviera was purchased by Chris Dursa on May 15, 1993 from the above listing. Chris restores and races Buicks in Ohio for hobby. As a child, Chris remembers his father owning the 1965 Riviera model, which is probably why he took such pride in this vehicles restoration.
On May 13, 2009 the 1965 Buick Rivera was registered to me, Tonya Kay, with 97,000 miles. I owned 6 diesel vehicles, 3 of which ran on vegetable oil fuel. I had been tinkering with my personal WVO VW TDI Jetta for years, refining the waste vegetable oil delivery system, and I really needed to look up from the mechanical marriage a driver and her alternative-fuel vehicle inevitably get locked into - I needed to have some fun with my car again. I searched eBay for 71-73 Riviera boat tails, obsessed with their Batman-esque aesthetic, when I found this rare beauty. The color caught my eye straight away, but it was her sexy, elegant lines that mesmerized me. I could tell from the details of the listing that this car had been loved and had a powerful mechanical base. I placed my eBay high bid at $5300 and did not meet the reserve. So when I saw her relisted the very next day, I went ahead and called the owner directly and offered him $8000. I didn't hear anything on the other end of the line and next thing you know, his wife comes on the line saying, "Please excuse my husband, he's a little choked up. I don't think he expected a girl to be buying his baby."
Later, Chris decided I was in fact the perfect person to be buying his baby and he sent her to me on the top level of a flatbed with all the trim, vents, molding and complete detailing packed in the trunk. When I unloaded her and fired her up for the first time ... I thought I had made the biggest mistake in my life! She was filthy from the cross country drive. Her brakes hardly worked. She was stalling out on me and I couldn't figure out how to open the doors with no handles. I knew right then, that I needed to rearrange my perspective of what owning a classic car was going to be like.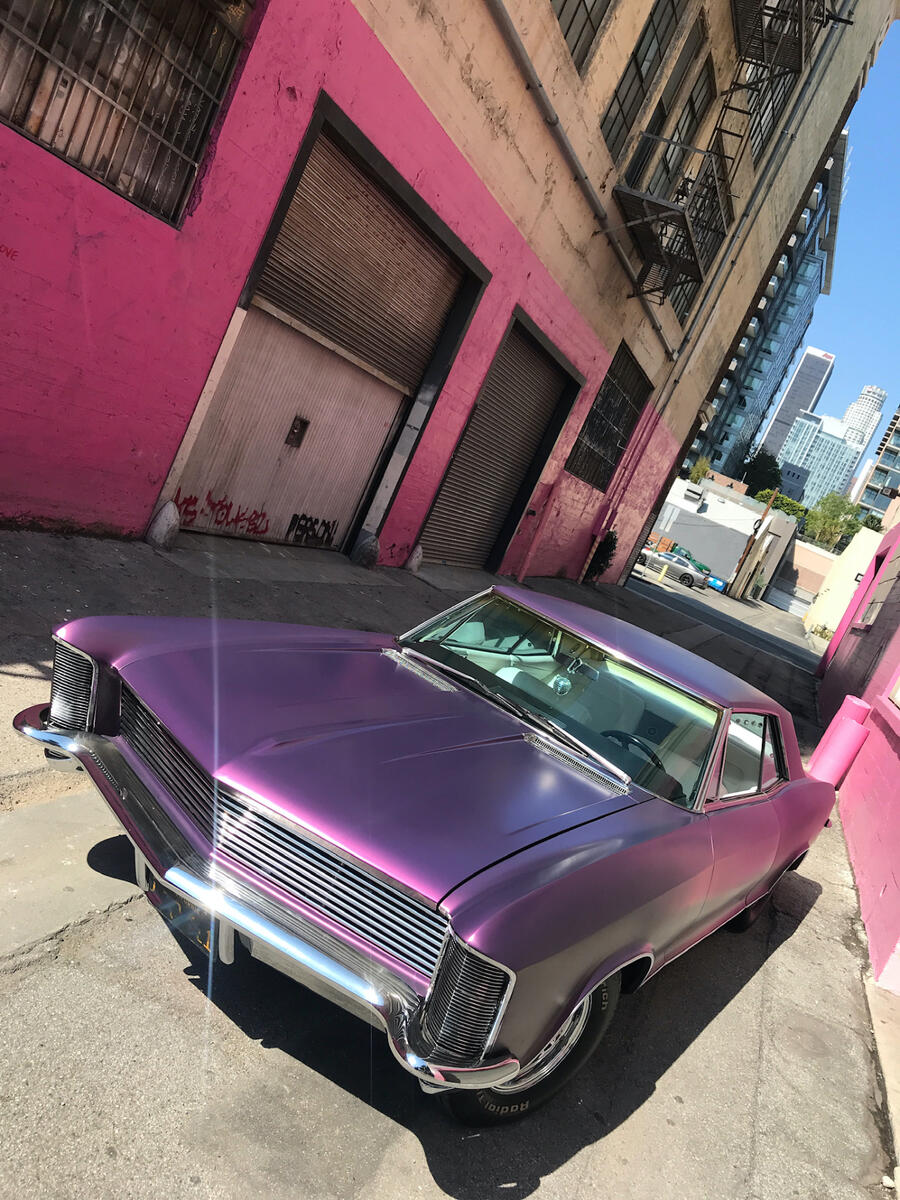 I have since put much money and energy into her, started producing my own classic car and pinup shows and in 2017 partnered with Anaheim Rod and Custom for a partial restoration (completed 2018). Now I've got those clam shells winking and that 401 sealed to make her feel special in Los Angeles, CA - only 2 miles from where she was born and registered to Harold Wyatt in 1965. She's made it back home.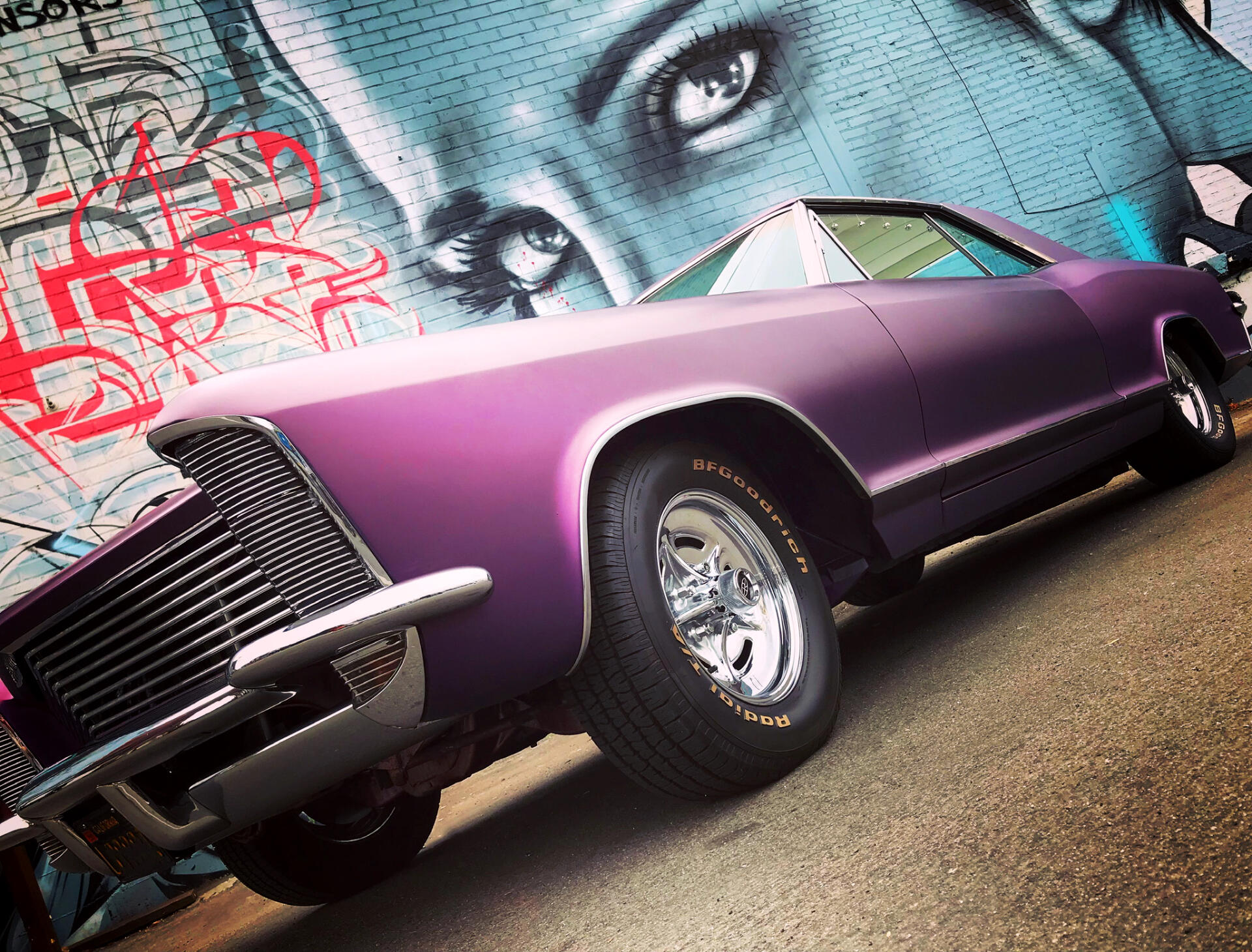 owner
Tonya Kay
The Most Dangerous Woman in Hollywood
I've converted 3 vehicles to run on vegetable oil. I drive an electric vehicle. I've owned two freight trucks. I finally own a classic hot rod. I always dreamed of driving this car as a kid. Now I'm living the dream. One time a cop pulled me over just to chat about the car. Old men flag me down to tell me they remember when my car was brand new. All the guys want to race me and all the girls want a ride. It's my first automatic and early on, I pulled up to a gas station to refuel and of course all eyes were on the car. Then they were all on the owner. I strutted out, greeting my audience, and as I squatted at the rear license plate to uncap the tank, the Riv started to roll away and on down the hill. It took a while for this manual transmission driver to learn the concept of a gear called Park: chick in mini skirt dashes after her classic hot rod. Now metrosexual boys in peppy sports cars dash after me.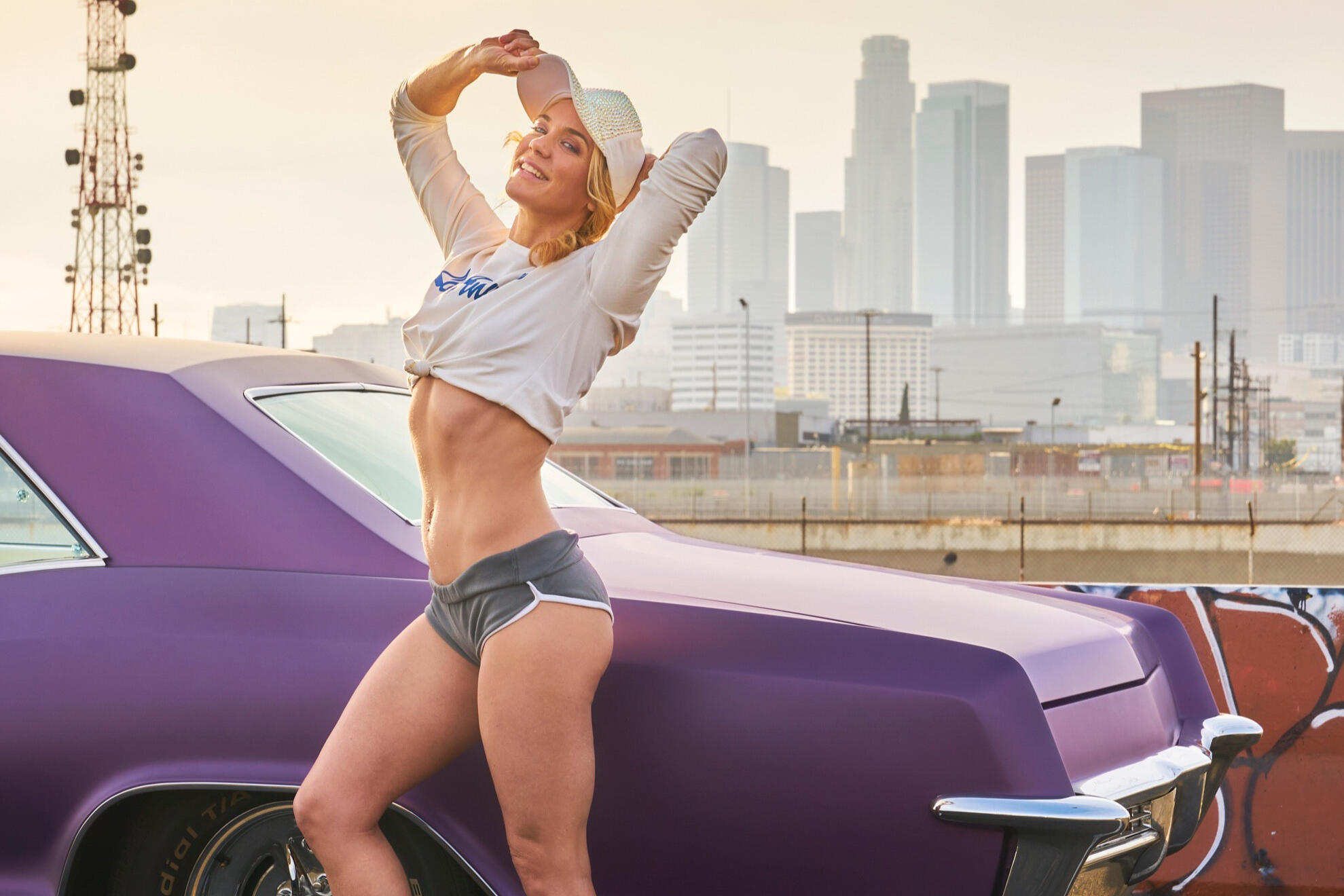 In addition to modeling with my own classic, I produce a classic car show in Los Angeles with my company Tonya Kay's Pinup Pole Show. My column, Pinup of the Week, at RacingJunk is the most-read column site-wide. I produce automotive photoshoots several of which you can see photos from on this site. And I created the series, Pinup Garage - "Pinup models' non-stop wardrobe malfunctions, photographers' secret success tips & detailing adventures of rare and expensive classic cars." Keep in touch via my social links and let's cruise!